Where to buy or how to sell a yacht in Cyprus
Where to buy a yacht in Cyprus without an intermediary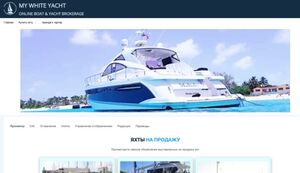 How to sell a yacht in Cyprus?
There are many Internet resources that offer their services for placing ads for the sale of apartments, houses, cars and even furniture. But we have not yet had a specialized site for the sale or purchase of yachts, catamarans or boats offering direct contacts of the owners.
And now the site MyWhiteYacht.com has appeared, which presents a huge number of sailing and motor yachts offered for sale in Cyprus. Be sure to visit this website, and if you have your own yacht that you want to sell, now it will be easy to do, you just need to place an ad and an interested buyer will contact you directly without intermediaries.
Also on this site you can find offers from charter companies for renting boats for fishing or sailing boats for sea trips.