Nazlidis Furniture Store
Luxury furniture for your home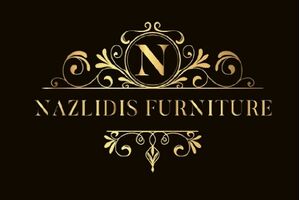 Nazlidis Furniture - is a luxury showroom located in the heart of the touristic area, in Limassol.
For its customers company offers online and offline shopping with fast service and easy check out.
Desides the existing stock, company works with multiple factories and can truly make anyone's interior dream come alive.
In the manufacturing process we use only high-quality materials, as quality is the main value of our company.
STYLE, ELEGANCE, ATTENTION TO DETAIL.
We combine style with elegance, to deliver products which serve your needs and desires. Make sure there is a story worth telling, by choosing furniture which embraces your space and makes every small detail count.
Find us in Limassol, Cyprus
You can visit our physical store in Limassol at Leoforos Amathountos,78, Agios Tychonas. At our store you can see a part of our location, and feel the comfort and luxury of our furnitures. We will be more than happy to serve you and help you choose the best for your home.
Visit our online furniture store.
Here is a complete collection of custom-made furniture from Nazlidis Furniture.
Coordinates
Place:
34.7085147399764 33.124762703704796