Lydia's handmade shoe store
High quality shoes, handmade from the Lydia's Shoes manufactory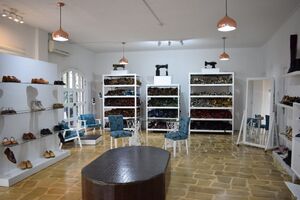 Lydia's Made to Measure Shoes is a Cypriot based company founded in 1989 by Lydia, a shoe designer and shoe manufacturer.
After working for many years at her father's business designing and participating in footwear manufacture, Lydia decided to start her own business.
Despite facing some difficulties at the beginning, the quality of her work and service was quickly appreciated by the public.
For more than 30 years Lydia's Made to Measure Shoes has been hand-making shoes.
All these years of experience and learning, the company developed principles that are vigorously followed. Some of them are to ensure that every pair of shoes are comfortable, well fitted and supportive for the customer's feet, therefore the company always follows international guidelines in shoe making.
Word-of-mouth advertising attracted more customers and Lydia's Made to Measure Shoes' has been established as one of the top hand-made shoe companies on the island.
However, a great number of customers come from the UK, Germany, France, Spain and Russia to buy a pair of shoes, or they place their orders from abroad.
Working Hours:
Monday, Tues, Thurs, Friday 9:00 – 19:00
Wednesday 9:00 – 15:00
Saturday 10:00 – 14:00
Sunday Closed.
Coordinates
Place:
34.67285706870934 33.04284778348697
Photo report from the handmade shoe store LYDIA'S SHOES